Bühler Group partners with Microsoft to create 'groundbreaking' food safety technologies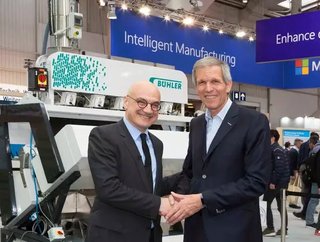 Swiss-based tech company Bühler Group has teamed up with Microsoft to roll-out cloud-based solutions which aim to eliminate contaminated grains and imp...
Swiss-based tech company Bühler Group has teamed up with Microsoft to roll-out cloud-based solutions which aim to eliminate contaminated grains and improve the availability of safe and healthy food. 
Creating technology for food processing and manufacturing, Bühler Group says that the collaboration comes at a time when the global food industry is facing increasing environmental and economic pressures. 
By 2050, the United Nations predicts that the global population will reach nine billion people and about half will suffer from inadequate nutrition. 
Today, around 30% – or 1.3 billion tonnes – of the world's food is wasted every year, which would be enough to feed 870 million hungry people around the world. 
By using digital technologies such as Microsoft's Azure cloud, artificial intelligence, and blockchain technologies, in conjunction with the inspection and processing technologies of Bühler and its partners, the partnership hopes to enhance transparency and efficiency in food value chains. 
"By interweaving Microsoft's capabilities and Bühler's innovations for food safety and availability, we strive to stand up to some of the most pressing issues in the global food system," said Calvin Grieder, chairman of Bühler's board of directors.
Çağlayan Arkan, general manager of worldwide manufacturing at Microsoft, added: "Bühler impressively demonstrates that manufacturers can be digital innovators, by strategically combining their industry-specific know-how with artificial intelligence, intelligent cloud and IoT solutions."
SEE ALSO:
Bühler Group said that one example which demonstrates what the partnership can bring to food safety is its new technology LumoVision, which is powered by Microsoft's cloud.
Launched at Hannover Messe in Germany, LumoVision is the first optical sorting technology which is able to identify grains which have been contaminated with aflatoxin. 
Just one grain infected with the highly carcinogenic mould can poison a whole harvest, could make people and animals ill, or in worst cases even kill them.
Aflatoxin cannot be seen, smelled, tasted or destroyed by heat and, according to the International Food Policy Research Institute, there are about 155,000 new cases of cancer caused by the mould every year.
"Aflatoxin isn't exactly a household name, but it's one of the biggest global pains," says Beatrice Conde-Petit, food safety officer for Bühler Group. "And it's a silent threat. You don't even know you're being poisoned."
By using cameras and ultraviolet lightning, LumoVision acts as a data-driven optical sorter which can identify the hidden mould on small grains.
The new technology eliminates up to 90% of contamination and reduces yield loss to below 5%, according to Bühler Group. 
Speaking of the new technology, Marianne Janik, General Manager of Microsoft Switzerland, said: "The Bühler and Microsoft partnership proves that the rigorous digital transformation of the business enables companies operating in traditional industries not only to win new customers and expand their markets, but also solve major challenges for humanity."
Ian Roberts, Chief Technology Officer at Bühler, added: "We see two companies that are evolving fast, have demonstrated alignment in culture, goals and action, and a shared commitment to improving global access to safe, healthy and affordable food."
Through the partnership, Bühler and Microsoft also said they would explore the potential of new technologies such as block-chain enhance full traceability in food value chains.