Arla dairy farmers ready to cut 30% of emissions by 2030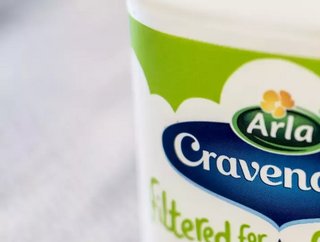 The dairy industry is facing criticism for its high carbon footprint. Dairy farmers at Arla are planning to reduce their emissions by 30% by 2030
Arla UK, farmer-owned co-operative, has unveiled a new report revealing carbon footprint data from almost 2,000 dairy farms. The report also includes the measures being taken to reduce farm emissions by 30%, by 2030.
Arla is headquartered in Viby, Denmark, with the UK head office in Leeds. The company has a revenue of €10bn in milk, yogurts, cheese and butter. 
Where dairy emissions come from
The report, "A sustainable future for British dairy" details that for every 1kg of milk Arla's UK dairy farmers produce, 1.13kg CO2 equivalent (CO2e) is emitted. This is half the average emissions recorded worldwide.
According to the report, Arla's raw milk emissions come from:
Cow digestion (46%)

Cow feed (where and how it is produced) (37%)

Manure handling (9%)

Energy production and usage (5%)

Emissions from peat soils (1%)

All other areas grouped together (2%)
Food retailers call for agriculture industry to take its emissions seriously 
Retail customers and the government alike want reassurance that the agricultural industry is motivated to lower its carbon footprint. 
"Here in the UK, we are seeing increasing pressure on the food industry to take real action in the area of carbon emissions", said Alice Swift, director of member relations UK for Arla. "We see this report as an opportunity to explain how we are already measuring and monitoring our progress, and provide a balanced science-based debate on the hot topics surrounding dairy."
As a cooperative business, Arla farmers want to help the public understand dairy farming better and what Arla is doing to become more sustainable.
"There are a lot of differences in how dairy is produced around the world", said Arthur Fearnall, Arla farmer and member of the Arla Foods Board of Directors. "We have put a huge amount of time and investment into collating the data which we will now use to make decisions. I hope our report is another step on that journey to provide better food education."
The transparent data generated by Climate Check is beneficial in helping farmers make environmental changes, as well as demonstrating what measures are being taken. 
"Arla believes that dairy can and should be part of a sustainable diet", Swift continued. "The Climate Check report is testament to the hard work Arla farmers have put in and will enable the company to advocate further on farmers' behalf."