AgTech: Five ways technology is disrupting the agriculture sector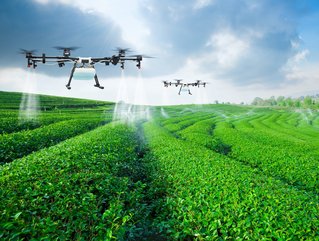 Labour shortages, soil health, food spoilage and more — the challenges facing farmers today are and detrimental, diverse and unrelent...
Labour shortages, soil health, food spoilage and more — the challenges facing farmers today are and detrimental, diverse and unrelenting.  Luckily, many have found solace in AgTech, a burgeoning sector, where technologists and entrepreneurs have worked shoulder to shoulder to solve the biggest pain points facing modern-day farmers. In 2017 along, investors ploughed more than US$700m into agricultural tech companies, according to CB Insights, a big jump with the $332m and $233m invested in 2016 and 2015 respectively. Looking forward, we investigate some of the ways in which technology is set to shake up the agriculture industry over the coming years.
Robotics
Whether picking fruit or sorting seeds, robotics is starting to make its way into every link in the food supply chain. In fact, the market for agricultural robots and drones is expected to reach US$35bn by 2038, according to a report by IDTechEx. By automating repetitive and monotonous tasks, robotics are allowing farmers to focus on value-adding jobs. On top of this, it's also helping to safeguard employees safety and animal welfare. Take, American agriculture firm, Cargill, who recently unveiled the industry's first cattle herding robot. By using waving automated arms, blowers and audio recordings, Cargill's employees can use the robot to move cattle in the desired direction. This is helping to protect employees by keeping them a greater distance from the 1,300-pound animals and additionally it will also reduce stress to animals by minimising their contact with humans.
Data Analytics
Today, data is often been cited as the 'new oil' and this trend hasn't gone unnoticed by the agriculture sector. By using sophisticated computer algorithms, farmers can analyse centuries of crop data to predict and improve crop yield. In 2013, the world's largest brewer, Anheuser-Busch InBev, launched a new platform called SmartBarley that has helped more than 5,000 farmers improve their productivity and environmental performance using data technology and insights. For instance, when used in Mexico, SmartBarley showed that some farmers tended to over apply fertiliser which not only increased costs but had a negative impact on the environment. This data-enabled platform allowed farmers to see this trend first-hand. In an exclusive interview with FDF World, Zoleka Lisa, AB InBev's Procurement Director of Capabilities and Sustainability, said: "We are committed to being at the forefront of malting barley research, helping our farmers improve yields and reduce the use of resources like water and fertilizers. Now we are taking SmartBarley to the next level by using the data to build sustainability metrics and create predictive analytics to help farmers access better insights to make decisions."
SEE ALSO:
Blockchain
Food safety is one of the most pressing issues facing the food sector today and many believe that blockchain could provide the answer. IBM has already teamed up with retailers such as Carrefour and Walmart to use blockchain technology to track and trace produce from farms to stores. By allowing farmers, producers, distributors and other players to provide traceability information about produce, consumers can trace food back to its origins in minutes rather than days or weeks. Consumer trust is waning in the food industry. A study by the Center for Food Integrity (CFI) claims that there is a "trust deficit" that exists between consumers and food companies. By enabling greater traceability, transparency, and efficiency in the food chain, blockchain could prove to be a critical tool for the agriculture market.
Smart spraying technology
Making the most of the available arable land is vital to meet the demands of an ever-growing and consuming population. According to predictions made by the Food and Agriculture Organization of the United Nations (FAO), farmers will have to sustainably generate around 50% more yield by 2050 in order to feed the global population. Reaching this level of productivity in a sustainable way is a delicate balancing act, and smart spraying technologies could play a key role. As part of a three-year partnership, Bosch and Bayer have joined forces to develop a smart spraying technology which makes the spraying of herbicides more effective and sustainable. "We have to use available land as efficiently as possible, and it won't be possible without these sorts of technological developments," Dr Boris Buchtala, Head of Smart Agriculture at Bosch Corporate Research, told FDF World. "Arable land is becoming more and more scarce. We have a growing population which is accumulating more wealth and therefore consuming more, including meat. The direct impact of this is that you need more crops to feed the animals we are eating. I'm not saying we are going to save the world, but we are doing our bit to make it more sustainable."
Equipment telematics
Farming equipment is often large, expensive and incredibly heavy, meaning that if something goes wrong and it needs to be repaired it can be detrimental to day-to-day operations. Equipment telematics has emerged as a life-saving tool for a lot of farmers, allowing manufacturers and maintenance firms to monitor farm equipment and machinery remotely in real-time. At its most basic level, a telematics system can provide information about where a machine is located as well as its diagnostics, and at a higher level, it can also be used for field efficiency analysis or automated field operation recording. Looking forward into 2019, its set to be a crucial technology for farmers looking to drive efficiency.