AgTech firm Red Sea Farms receives $10m investment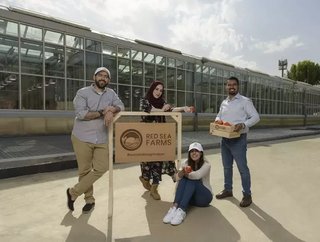 Saudi-based sustainable AgTech firm Red Sea Farms, a salt-water growing specialist, receives $10m investment
Red Sea Farms, a Saudi Arabian AgTech business whose technology enables the commercial farming of produce using primarily salt water, has received a $10 million venture capital investment from a group of leading Saudi and UAE investors.
The investment in Red Sea Farms, which is based at King Abdullah University for Science & Technology (KAUST), was established in 2018 and is one of the region's largest AgTech investments. The consortium reflects growing investor interest solutions that can combat pandemics and global supply chain disruptions.
The company's system primarily uses salt water, cutting fresh-water consumption by 85 to 90%. Through a patented system of new, more efficient solar and growth monitoring technologies, salt water replaces fresh water typically used to cool greenhouses and irrigate crops.
The funding is being led by a group of Saudi and UAE investors including the Aramco entrepreneurship arm Wa'ed, the non-profit foundation Future Investment Initiative Institute, KAUST and Global Ventures, a UAE venture capital group. The funding is one of the first AgTech investment for many of the participants.
Red Sea Farms to "improve global food security"
"We are proud to have designed, developed and delivered one of the world's most sustainable agricultural systems from our base in Saudi Arabia," said Ryan Lefers, Red Sea's Chief Executive and co-founder of Red Sea Farms. "The investment from our new partners will help us improve global food security while reducing the carbon and fresh-water footprint."
"The Red Sea Farms investment reflects our decade-long commitment to the Saudi start-up sector, where Wa'ed has deployed more than $100 million in venture capital investments and loans to more than 100 entrepreneurs", Wassim Basrawi, the managing director of Aramco venture Wa'ed. "Red Sea Farms is a good example of a game-changing start- up whose innovations not only can transform markets but improve life for everyone in the Kingdom."
KAUST funding for Red Sea Farms
Red Sea Farms plans to use the funding to build and retrofit more than six hectares of commercial farming operations in central and western Saudi Arabia. The company currently operates a salt-water pilot greenhouse at the KAUST Research & Technology Park.
Red Sea Farms received a $1.9 million investment in 2019 from the KAUST Innovation Fund and Saudi-based Research Products Development Company. A leading graduate research university, KAUST is a major innovator of sustainable agriculture solutions for the Middle East and other water-scarce regions.