Üllo: returning wine's purity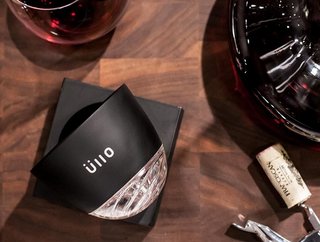 James Kornacki, CEO of Üllo, describes the scientific process of creating his wine purifier and the impact it's having on wine-lovers eve...
James Kornacki, CEO of Üllo, describes the scientific process of creating his wine purifier and the impact it's having on wine-lovers everywhere
A compact, stylish device has recently been launched in the UK following 18 months of excitable, awe-struck responses from fans in the US and beyond. Why has this gadget become so successful in such a short time? Because it further improves the enjoyment and experience one of the world's favourite beverages – wine.
The Üllo Wine Purifier's creator, James Kornacki, is over the moon about the reception to his product. At just 31, he is well on the way to achieving his ultimate goal of making wine more accessible as well as better for drinkers; after all, Kornacki is not simply a business person, but a scientist.
Realising as a child that he loved chemistry, Kornacki pursued the interest at the University of Michigan. Graduating straight into the recession in 2009, he found himself applying for graduate school due to a lack of feasible job options, but he was reticent about the six years of study this would require.
SEE ALSO:
"I recently re-read my admissions essay for the University of Chicago, and I'm shocked they let me in because it said 'I'm really not sure I want to give up six years of my life in a research lab – I want to start a business'," Kornacki explains with a laugh. "But I love chemistry, so I thought maybe there was a way I could use that to start a business. Re-reading that letter gave me goosebumps because the whole essay came true. I was thinking about doing something Üllo-like the whole time without really knowing it."
As he approached the end of his doctorate, Kornacki became increasingly focussed on creating something new. Out of the blue, he was inspired by a box of inexpensive wine sitting atop his fridge, and combined with the knowledge that his own aunt couldn't drink wine because of a sulphite sensitivity, inspiration struck – what if he could create a resin that sequestered sulphites?
Kornacki set about creating a plan of action immediately, and it was immediately apparent that the biggest challenge came in removing only the sulphites without affecting anything else.
"I had to discover or develop a polymer that would not just remove sulphites from wine, but intentionally leave out everything else that's supposed to be there. Sulphites are the only added unnatural chemical, and wine itself is comprised of thousands – if not hundreds of thousands – of natural compounds. How do you take one chemical out of this mix without disrupting the chemistry of others?"
Companies have been attempting to remove sulphites from wine since the late 80s, but they were never able to isolate them effectively, and would remove everything with a negative charge – including the organic acids which act as the bulk of the drink. Kornacki discovered a way to disrupt the status quo and ensure wine remained wine.
"I created what we call in chemistry a 'covalent capture mechanism'," he explains. "It exploited a unique property of sulphites themselves, which is that they are the most reactive chemical in wine. Part of the reason they're so effective as preservatives is that they are reactive chemicals, and reactive tends to also mean toxic. Toxic chemicals kill the microorganisms that accelerate spoilage; without sulphites there'd be no global wine economy because you couldn't transport it."
SEE ALSO:
It's important to note that, for this reason, Kornacki very much supports the use of sulphites as a necessity. However, they only perform their function during transit; once opened, wine is susceptible to spoilage like any other consumable, but it retains the downsides of sulphites.
Kornacki's revolutionary Üllo acts not like a net to capture particles (as has been attempted before), but like a magnet. Sulphites are attracted to a unique polymer while all other elements of the drink pass through unaffected. It was vital for Kornacki that nothing but the sulphites be altered by Üllo.
"I knew at the beginning that if I did anything to change the perceptible qualities of wine – the taste or the aroma – it would be blasphemy," he explains. "The product would never survive because people take wine very seriously, as well they should."
Fortunately, Kornacki discovered that the only impact removing sulphites had on these qualities were positive ones.
"I realised early on in developing the proof of concept that sulphites themselves taste really bad. While it's never wise when you're in the lab to taste the chemicals you're testing, I figured if this stuff was in wine, it was relatively safe if prepared as a solution that's a similar concentration as it is in wine."
So, Kornacki discovered the hard way that sulphites taste revolting, but it confirmed his theory that their removal would, if anything, take away any harshness or bitterness from wine – particularly inexpensive brands.
"The really subtle taste change that you get using Üllo is, I think, what's made it so successful – not only because wine tastes better, but because people know that it's working and are expecting a difference. They're looking for it, and because the only change is removing a bad-tasting chemical, you're really exposing the natural flavours."
This is what Kornacki believes will make wine more accessible. Wine can feel out of reach for some people, but fortunately, Üllo works best on the less expensive wines because they tend to contain the highest volume of sulphites. Kornacki began his testing on cheap boxed Chardonnay, and his team continues to use it to this day, thanks to its consistency and high sulphite levels.
"A real benefit of Üllo is that you can feel confident knowing that you don't have to spend a fortune on wine for it to taste like something of very high quality," he says.
Üllo will also appeal to the increasing number of people concerned about preservatives for health reasons. Kornacki's imagined worst case scenario was that only Californians would find this element appealing, but as soon as Üllo launched on Kickstarter, it began drawing attention from all over the world. "Folks have embraced it anywhere wine is enjoyed," Kornacki explains. "It's not just a passing fad of being concerned about the chemicals we're ingesting."
SEE ALSO:
That much is clear by the incredibly positive feedback Üllo has received 18 months from its launch. Customers have praised not just the improved taste, but the after-effect – many have stated that Üllo reduces or even removes wine hangovers completely. While this is not something that Kornacki or his team can claim is a guarantee since everybody responds differently, he is overjoyed at the feedback thus far.
"Seeing those reviews is the most validating thing that I get to experience, not just as the CEO of the company but as a scientist. It's the conclusion of the experiment, to some extent. It's validation that my hypothesis was correct."
Users have also praised the design of Üllo, which adds an element of spectacle to its use. The top section is a sleek minimalist black, but the bottom is transparent and swirled, allowing the wine to aerate as it pours into the glass. The novelty of this appeals to both individuals and social groups, and as wine can be applied to almost any setting and context, Üllo's hybrid design is able to sit on top of all types of glassware, from a single wine glass to a carafe.
Design was always a vitally important element of the creation process for Kornacki, as it is meant to also be a visual focus – a novelty, even – making it the centre of attention no matter the situation. "Üllo is as much about the aesthetic as it is about the science; I think it has to be to be a successful consumer product," he states.
The proven worldwide appeal of Üllo is pulling the business in multiple directions. The product has now launched in the UK and is not only available on Amazon, but will appear in selected retail stores in the spring. Kornacki and his team are now on the look-out to create more of a presence in other European countries – such as France, Germany, and Italy – having already set up shop in Spain and Portugal. There is also huge interest in South Africa, where Üllo ships to (as it does all over the world), but as it is so costly to do so, the business is looking to get Üllo on physical shelves there. China and Japan, too, are vying for Üllo's presence, and Kornacki couldn't be more thrilled by this response.
"Üllo was created to improve the entire experience of wine-drinking," he concludes. "The whole point of wine is to worry less and to feel good, and anything that helps that is bound to be successful."