Doja Cat in new drink ad for Pepsi Cream Soda & Black Cherry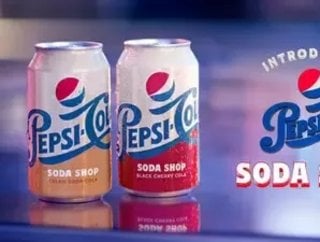 New music video for Pepsi-Cola Soda Shop in Cream Soda & Black Cherry flavours staring 'Need to Know' singer Doja Cat, with a nostalgic throwback to Grease
Pepsi has unveiled a new Pepsi-Cola Soda Shop, with classic soda shop flavours: Cream Soda and Black Cherry - and made with real sugar, just how they used to be. 
Coinciding with the 50th anniversary of "Grease," Pepsi recruited the singer Doja Cat, to put her own spin on "You're the One That I Want."
Celebrating 50 years of Grease with two new Pepsi flavours 
The music video was directed by Hannah Lux Davis and choreographed by Sean Bankhead.
Doja Cat's character enjoys a range of costume changes, paying tribute to Grease's heroine, Sandy, while sporting Pepsi-themed jewelry. But is Doja Cat more interested in the leather-clad hunk gawping at her, or the can of Pepsi in his hand?
She follows artists such as Britney Spears, Mariah Carey and Beyonce, who have also featured in Pepsi adverts. 
Doja Cat, from Soundcloud to celebrity Pepsi spokesperson 
In 2013, 16 year-old Doja Cat began uploading her songs to Soundcloud. The following year, she signed to Kemosabe/RCA and released her Purrr! EP. Doja Cat's Hot Pink (2019) has been streamed over 10bn times worldwide. 
"Pepsi has a great heritage in music and we couldn't be more thrilled to continue this legacy by partnering with Doja Cat around the launch of Pepsi-Cola Soda Shop", said Todd Kaplan, VP of Marketing at Pepsi. "With a nod to the nostalgic soda shop flavours of the past, Pepsi-Cola Soda Shop is sure to become an instant classic in our limited time offering lineup."
"Working with Pepsi on this remake of 'You're the One that I Want' has been surreal", said Doja Cat. "It's such an iconic song and brand, so to have the creative license to put my own spin on it for the launch of Pepsi-Cola Soda Shop was a once-in-a-lifetime opportunity; I had to be a part of it."