Corona tackles plastic packaging waste and becomes net-zero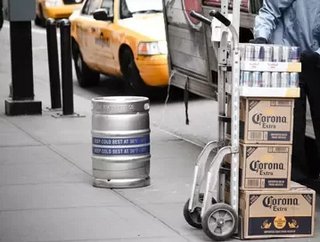 Raise your glass, Corona has become the first global beverage brand with a net-zero plastic footprint
Corona beer may have experienced an unfortunate name-share, but it's as popular as ever, scoring first place in the top 50 beers of 2021. 
The company has scored another milestone, of achieving a net-zero footprint from its packaging. 
Each year, 12.7m tonnes of plastic waste ends up in the ocean, often after only a single use. Corona decided to change this and after an extensive external assessment of Corona's global operations, against the 3RI Corporate Plastic Stewardship Guidelines by leading climate solutions provider South Pole, Corona has become the first global beverage brand with a net zero plastic footprint.
The assessment measured Corona's remaining plastic usage throughout the brand's products and distribution logistics processes, but Corona's long-term vision is to be a sustainability leader in consumer packaged goods and work alongside its competitors, on the problem of marine plastic pollution.
It also followed the Verra Plastic Waste Reduction Standard to calculate the impact of Corona's mitigation activities, including a major investment in Mexico Recicla, a recycling facility in Mexico.
Corona confronts customers consumption habits
The brand has also launched Plastic Reality, a way for consumers to see the level of plastic waste they are contributing. 
Plastic Reality users get an estimate of their annual plastic footprint after answering some basic questions about their consumption habits. 
That footprint is then visualized through colorful AR pieces of plastic that splash across the user's physical world like seawater washing ashore. 
From there Plastic Reality opens a virtual portal to a polluted beach paradise that shows how plastic affects nature while prompting users to take action to reduce their plastic footprint. 
Corona calls other manufacturers to take action on polluting packaging 
"Becoming the first global beverage brand with a net zero plastic footprint is the latest in Corona's broader ambition to help protect the world's oceans and beaches from plastic pollution", said Felipe Ambra, global vice president of marketing at Corona. "But we can't do it alone. That's why Corona created Plastic Reality, an augmented reality experience that allows people to see their annual plastic footprint in their own home. Seeing your full years' worth of plastic in your living room is truly eye-opening, and hopefully will inspire people to reduce their personal plastic use and their impact on the environment."
"We welcome this first important step by Corona towards the complete removal of plastic from their supply chain", said Richard Hill, chief executive of Ocean Generation. "This net zero plastic footprint accreditation demonstrates Corona's recognition of the plastic footprint their products leave on the planet and the series of practical steps they are starting to take in mitigation. We look forward to working with Corona to achieve their ultimate aim of leaving no plastic in nature."