5 minutes with Kiran Tawandey, of Hampstead Organic Tea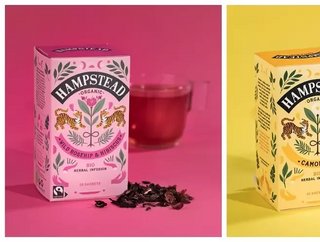 Kiran Tawandey, founder of Hampstead Organic Tea discusses the importance of organic produce, plastic-free packaging and loose leaf vs teabag tea
Hampstead Tea is a female-led, sustainable, organic brand, founded by Kiran Tawandey. Inspired by a trip to the Tea Board of India's London office, Kiran has been advocating natural tea cultivation and biodynamic farming since the 1980s. 
Tawandey met with Food Digital to discuss Fairtrade, pesticides and whether teabags are a gateway to loose leaf tea. 
Hi Kiran! Why did you create Hampstead Tea? 
"In the 80s, no one really knew what 'organic' meant. People just assumed things like tea were organic, but tea is actually quite intensely cultivated. There are some really nasty pesticides in commercial teas. Did you know that when you place tea in boiling water, that's the first time it's washed? So, whatever is on the tea leaves, is in your cup. 
"In 1989, I met Rajah Banerjee in one afternoon in July who owned Makaibari Tea Gardens in Darjeeling. He spoke of natural tea cultivation and what really struck me was the way it is grown is simply spectacular and different. After hearing his vision about organic and biodynamic tea cultivation, I was driven to spread this message as I was sure there were people who would be very excited to hear about this "new" way of growing things. 
"I decided to take up his challenge and started selling the tea in home packed boxes. It was tougher than I expected, but my determination paid off. In 1990, Hampstead Tea was awarded best in category at the Organic Food Awards for the Organic Darjeeling Whole Leaf Tea – presented by HRH Prince Charles, himself."
Tell us about the Hampstead Tea flavours - what do they mean to you? 
"We have over 22 flavours of tea ranging from Rosehip & Hibiscus, Peppermint & Spearmint, to favourites like Pure Green Tea and English Breakfast Tea. All our flavours are created by our master blenders, and I am very involved in the tasting process as well. Our tea flavours are always described as 'soft' and we like to think that we don't produce teas that are 'forced' in any way. That's the "Hampstead Tea" flavour across the board. They don't have artificial flavours or tastes; they are very natural."
What challenges are currently facing the tea industry? 
"Truthfully, the tea industry is struggling with many challenges at the moment. The biggest challenge is that we are losing black tea drinkers to coffee. Although Hampstead Tea's core focus isn't the black tea market, on the whole the standard black tea is now seen as a drink for older people, and younger people are preferring herbs or green tea. The tea industry must innovate on that front and communicate the huge benefits of all Teas- black, Green, and herbal  which are full of antioxidants and polyphenols and hence health enhancing. 
"Aside from that, climate change. This brings rain at unseasonable times which affect the harvest. The tea plant is very sensitive to climate change, we are very much like the wine industry, in this sense. Surprisingly, COVID has not affected the tea farms much, as it is all open air and in a clean environment."
Why is it important to create organic tea? 
"It is really important as fertile soil is not going to last forever. It's important to keep regenerating it. Everything we grow should be organic, not just tea!"
Tell us about your journey with Fairtrade...
"We were one of the first products with the Fairtrade mark in the late 1980s. All our products come from sustainable, ethical fields and farms. Most of our products have the Fairtrade or Demeter logo. The latter being the hallmark of biodynamic farming and it encompasses many ethical aspects of fair trading. We would never ever support organisations that use child labour or those that use harmful pesticides on their plantations, as it is unhealthy for both the plants and the people who live there."
Can you tell the difference between loose leaf or tea bag tea? Does it matter? 
"It absolutely has a difference. Loose leaf tea has a much more intense and nuanced flavour profile. When I first started out, I was only retailing loose leaf tea as I thought people who bought organic products would opt for loose leaf tea, but they didn't as it was too much of a jump to switch from the convenience of tea bags to loose leaf tea. We started creating tea bags like Camomile, Darjeeling, Lemon & Ginger and so on. We figured that if people like the tea bags, they would be more open to trying loose leaf teas, and that is usually how people get on board with loose leaf teas. I would say tea bags are a gateway for consumers to get into loose leaf teas."
Tell us about the packaging of Hampstead Tea
"We have 41 different products and almost all of them are plastic-free. We do not use plastic in our packaging unless necessary. Our tea bags are also made of unbleached paper and organic cotton and are 100% compostable. 
"Our loose-leaf teas are encased in Natureflex, a cellulose from sugarcane leave and it is completely compostable, and of course our boxes are all made of paper. In terms of the design, we wanted to showcase the feeling of walking through a tea garden and every leaf printed on the box is an actual tea leaf."
What do the next 12 months look like for you? 
"I wish I had a crystal ball that could tell me that [laughs]! We have a few new products coming out soon and we also have several new stockists in the pipeline. This year, we have sorted out our infrastructure for both EU and the UK compared to  this time last year when we had no idea how Brexit would affect us. I feel now we are well equipped for success and I am excited for the next 12 months!"