10 Events to Check Out for San Diego Beer Week 2014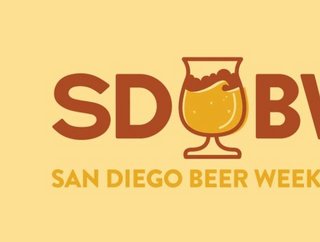 It's been a milestone year for the craft beer industry. There are now
It's been a milestone year for the craft beer industry. There are now more than 3,000 craft breweries in operation throughout the United States—the last time the country has had that many working breweries was before Prohibition took hold—and according to the Brewers Association, annual growth for the segment reached 17.2 percent in 2013 and is already surpassing 20 percent for 2014.
It's a segment that's growing everywhere, propelled forward by passionate brewers and the fans and allies that support and celebrate them. In San Diego, one of the top craft brewing cities in the country, that support culminates every year in San Diego Beer Week – and today, SDBW 2014 is upon us.
The Sixth Annual San Diego Beer Week spans from November 7-16, 2014, and is marked by events stretching across the county. "Throughout the week, over 20,000 craft beer-enthusiasts from across the world will descend upon San Diego to enjoy hundreds of events and explore almost 100 craft breweries," states the San Diego Brewers Guild. "During the ten-day celebration, breweries, brewpubs and industry affiliates will host events ranging from cask nights and beer-paired dinners to specialty events like a mountain bike excursion ending at one of San Diego's brewpubs."
Every year, there are so many activities happening all at once that it can seem overwhelming—last year over 600 separate events were scheduled, which means that getting to every single one is impossible. Here are ten of our favorite picks for the week in chronological order, but it's immensely hard to choose so don't just take our word for it—check out the whole San Diego Beer Week lineup and see which events look right for you:
1. Guild Fest VIP Brewer Takeover (Friday, November 07 — 6-9PM Port Pavilion on Broadway Pier)
Get up close and personal with award-winning breweries during this more intimate event to kick off SDBW. $75 gets you unlimited food and beer tastings plus a commemorative glass.
2. San Diego Brewers Guild Festival (Saturday, November 08 — 2-5PM Port Pavilion on Broadway Pier)
This is San Diego Beer Week's Big Event, officially launching the celebration with unlimited tastings from dozens of San Diego craft breweries big and small, plus food trucks and 30-minute seminars on the art of beer making from UCSD Extension's Brewery Certificate program and SDSU College of Extended Studies' Business of Craft Beer program.
3. Second Saturday with Marin and NorCal Friends (Saturday, November 08 — 5PM Hamilton's Tavern)
Second Saturday tap takeover and food pairing events at Hamilton's Tavern are always a must, and Beer Week is no exception. Hamilton's is celebrating Marin Brewing and other brewery friends from Northern California including Moylan's, Half Moon Bay, and Moonlight. To go with it, the Hamilton's Café is cooking up a Thanksgiving feast with turkey, green bean casserole, and "stuffing waffles" that we really want to know more about.
4. The World's Biggest Bottle Share on 30th Street (Sunday, November 09 — 12-6PM all along 30th Street from Beech St. to Adams Ave)
The Craft Beer Association of San Diego, South Park Business Group, North Park Main Street Association, and other local groups are pulling together an attempt to set a new world record for the biggest bottle share event in history. All you need to do is pick up a pass online or at an authorized registration station, grab a bottle of something you'd like to share, and line up anywhere on 30th between Hamilton's Tavern and Polite Provisions by 12:30 for the festivities.
5. Fishing With the Brewers II (Monday, November 10 — 9AM-2PM Fathom Bistro Bait & Tackle)
If you can get the time off on Monday and are up for some outdoor activity, check out the Fishing with the Brewers event at Fathom Bistro in Shelter Island. $70 will get you a fishing pole (to keep!), all the hooks, weights, and baits you need for the event, beer and burritos, and quality time with San Diego brewers like Yuseff Cherney from Ballast Point, Bill Batten from AleSmith, Chuck Silva from Green Flash Brewing, and more. Apparently the first place prize is a 3L bottle of Samichlaus, which is fantastic, but it sounds like a morning well spent whether you catch any fish or not.
6. AleSmith 3-Day Speedway Grand Prix (Wednesday, November 12—Friday, November 14)
Alesmith Brewing Company is offering up twelve unique variations on its iconic Speedway Stout, served up together in flights of four over the course of three days. Not all of the varieties have been announced yet, but some of the early contenders include peanut butter, mint chocolate, and coconut vanilla. To fend off a frenzy, all flights must be pre-purchased via ticket ahead of time, redeemable at the brewery on the day (or days) for which you signed up. But don't worry if you don't have time to make a three-day commitment: AleSmith notes that all three laps will be available each day.
7. Craft Beer + Bites :: Beer Week Edition (Thursday, November 13 — 6-9PM SILO at Makers Quarter)
Good causes are always worth checking out, and this year SILO in Makers Quarter has teamed up with the San Diego State University College of Extended Studies Business of Craft Brewing Program for an event to benefit the San Diego Brewers Guild. $20 in advance ($30 at the door) gets you ten craft beer tasters and access to food trucks, games and activities, live music, and more.
8. Meeting of the Guilds (Friday, November 14 — 6-10PM Toronado)
This event is a first, as three major California brewers guilds join forces for a massive tap takeover. Fifteen breweries each will be on deck to represent the San Diego Brewers Guild, the Los Angeles Brewers Guild, and the San Francisco Brewers Guild. To add a little spice and competition to the event, attendees can vote on their favorites to win the Golden Keg at the end of the night.
9. Master Pairings: Ultimate Beer & Chocolate 2014 (Saturday, November 15 — 12-2PM Stone Brewing World Bistro & Gardens)
Beer and chocolate – could there be a better way to start your weekend? If you agree then check out the event going on at Stone Brewing Co.'s flagship Escondido brewery, where certified Cicerone Bill Sysak has organized a 12-course pairing of Stone beers (including some special limited picks like Xocoveza Mocha Stout) with toffees and truffles from local chocolatier Johna Nilson of So Rich!!! Chocolates.
9. Ballast Point Tap Takeover (Friday, November 14 — 9AM-11:30PM The High Dive)
San Diego craft beer pillar Ballast Point is taking over twenty taps for an all-day event at The High Dive on Morena Blvd, which is already great. The brewery is putting some of its most creative specialty variations on offer, including thai chili Wahoo Wheat, tart cherry Black Marlin Porter, key lime and tangerine Dorado, and an orange and milk chocolate Victory at Sea.
10. The Beer Garden (Sunday, November 16 — 12-3PM The Lodge at Torrey Pines)
The official closing event for San Diego Beer Week 2014 is always a pretty spectacular affair, pairing dishes from twelve top local chefs with craft beers from 24 local breweries, set against the beautiful terrace backdrop of The Lodge at Torrey Pines. This year's chefs include Amanda Baumgarten (Waypoint Public) and Hanis Cavin (Carnitas Snack Shack), and between dishes patrons can snack on chocolates from Eclipse, bread from Sadie Rose, and charcuterie from Angel's Salumi and Truffles. Tickets come with unlimited beer and food tasters.