Flybox wins grant to build fully modular insect farm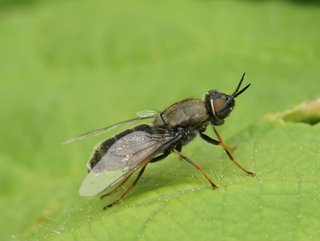 In building this insect farm, Flybox hopes to tackle climate change, land overuse and food waste.
Flybox has won a transformative grant from Innovate UK to build a world-first fully modular insect farm, aiming to democratise insect farming worldwide
UK based agri-tech company Flybox has been awarded £1 million (US$1.24m) co-funded by Innovate UK and DEFRA as part of the Farming Futures Research and Development Fund to create The 360 Farm, the world's first fully modular insect farm. The project is being undertaken in partnership with Harper Adams University, alongside a free-range layer hen farm in Aylesbury.
In building this insect farm, Flybox hopes to tackle climate change, land overuse and food waste. It is the world's first end-to-end modular insect farm and is designed to create a sustainable source of protein on commercial farms.
Flybox's modular insect farm offers a scalable, sustainable farming solution
Flybox's modular technology is ground-breaking and aims to unlock the benefits offered by insect farming for an increasingly overstretched and environmentally damaging food supply chain. The world is projected to be 60 million tonnes short of protein by 2030, and similarly, demand for animal feed is expected to double by 2050.
The animal feed and fertiliser markets in particular represent key targets for innovative solutions like Flybox.
Insect farming has the potential to greatly reduce the environmental impact of the farming industry, by significantly reducing land and water use as well as addressing long-term food insecurities. This is done by reducing reliance on unsustainable protein sources.
However, in the UK, the insect protein uptake is limited to specific industries, with farmers often unable to reap the benefits it holds. With this new funding for The 360 Farm, Flybox aims to tackle this and integrate seamlessly onto commercial poultry farms seeking a sustainable animal feed protein source.
Each stage in the insect farming process has its own bespoke, prefabricated component. Combined, they create a low-CAPEX system that allows farms to produce their own insect protein for use in feed.
With affordability and adaptability as its main focus, Flybox's modular insect farm offers a scalable and sustainable farming solution applicable to any player in the food industry. It enables users to purchase insect breeding, nursery, growing, waste management and product processing solutions separately, or combined into a fully functioning, made-to-order, ready-to-go insect farm.
This Flybox project comes in the wake of a series of successful projects in Kenya and in the UK in partnership with local companies, NGOs, and the government. By creating insect-tech solutions for food producers, retailers and farmers worldwide, Flybox aims to play a significant role in accelerating the global transition to circular agriculture.
"Flybox aims to ease access to insect-farming technology, moving away from the era of exclusively centralised insect-farming facilities," says CEO Andrea Jagodic.
"Now with the funding provided by Innovate UK and DEFRA, we can push forward in our mission to facilitate sustainable farming practices and increase global food security, by unlocking insect-farming on a wider scale for farmers that desperately need solutions today."