5 minutes with: Eric Liu, founder and CEO of HungryPanda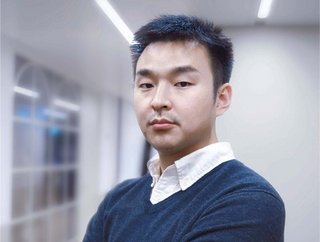 Eric Liu: HungryPanda has become the world-leading Asian food delivery platform in more than 80 cities across 10 countries.
HungryPanda's founder and CEO Eric Liu discusses the impact of the supply chain crises and the biggest lesson he's learned in the food delivery market
HungryPanda, the Asian food delivery giant providing authentic Chinese food and grocery delivery, is ready to take on North America. In 2023, the company announced an updated brand campaign which included a new identity that reflected the company's transformation into a one-stop lifestyle service. It continues to provide convenient, high-quality services for overseas Asian communities, but is extending its access across its website and mobile app worldwide.
Eric Liu, HungryPanda's founder and CEO, shares with Food Digital how he first got into the food delivery market, the challenges he has faced, lessons he has learned and what is next for the company and its continued growth.
Hi Eric! Tell us about your education and career path - what got you to where you are now?
"I graduated from Nottingham University in the United Kingdom in 2016, and my major was Computer Science.
"When I studied in the UK, I found the takeaways to be an issue, due to the language barriers and preferences. So I came up with the idea to create a platform to satisfy overseas Chinese students with the most authentic Chinese food."
Tell us about HungryPanda the company:
"It has been five years and HungryPanda has become the world-leading Asian food delivery platform in more than 80 cities across 10 countries, including the UK, the US, Canada, Australia, New Zealand, France, Italy, Japan, South Korea and Singapore.
"Last year, we launched our Asian grocery e-commerce platform PandaFresh and discounted ordering methods of online and offline lifestyle services platform VouchersPanda.
"After we raised US$130mn in a D round investment last December, HungryPanda has accumulated more than US$220mn in total."
Why are food prices continuing to rise, and how this is impacting your supply chain?
"As inflation keeps growing, the raw materials of food also increase in price and this has caused some problems for our partnered restaurants. To support our partners, we have introduced some economic methods to help them save costs and ensure high-quality food and relatively low food prices for our customers.
"For PandaFresh, many of our exclusive items are imported from China, it doesn't have an impact on our supply chain. We also cooperate with local vendors. We knew every platform would increase their prices due to the inflation, but we still offer a lower price, to better satisfy our customers."
How has the COVID-19 pandemic influenced HungryPanda?
"As most of our audiences are overseas Chinese, because of the lockdown many people cannot travel as frequently. We have also faced the sad situation of decreased students and labourers. That's a part of the reason why we have explored other business models.
"At the same time, we keep a closer relationship with our merchants, to improve their digitalisation process and make sure they could have a good benefit. We also provide benefits and convenience for our customers, to ease their anxiety and panic during the pandemic."
What has been HungryPanda's greatest challenge?
"The food delivery market is an intense market, so many competitors could have an impact on us. That is also the reason why we try to find a specific way to keep optimising our business models to increase our loyal customers and enlarge our market."
What has been your biggest lesson whilst working in the industry?
"No matter what you do, the most important thing is to know your audience. Without a deep understanding, you cannot make sense of your goal and what your business wants to achieve. Finding the right target audience is very important no matter if they are new customers, loyal customers, frequent customers or rare customers. You should always know how to satisfy them with different strategies."
What do the next 12 months hold for you and HungryPanda?
"We always keep enlarging our business and attract more customers. Next, we will focus on the North American market, to expand our business to more cities and cover more overseas Asian communities."