McDonald's Partners with Kraft to Bring McCafé to US Retail in 2015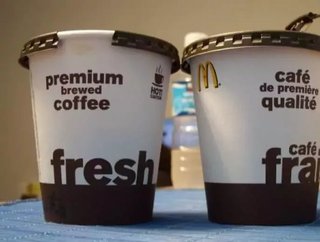 Back in 2012, McDonalds filed a document with the U.S. Patent and Trademark Office staking a claim on the term "McCafé" as it applies...
Back in 2012, McDonald's filed a document with the U.S. Patent and Trademark Office staking a claim on the term "McCafé" as it applies to "ground and whole bean coffee." Of course that sparked rumors that McDonald's would soon be taking its McCafé brand to the retail sector with whole or ground coffee beans, but the fast food chain remained tight-lipped on the subject, simply commenting: "we register a lot of trademarks."
But now it's all coming together, and McDonald's has enlisted the help of a major force in food manufacturing to help make it happen. Today McDonald's Corporation announced that it has partnered with Kraft Foods Group to manufacture, process, package and bring McDonald's McCafé ground and whole bean coffee to grocery stores and specialty retailers across the United States starting in early 2015.
"We understand there is huge demand for at home options and we've built great success with our McCafé coffee in restaurants. So, it was a natural next step to provide customers with McCafé coffee to enjoy in their own home," said Greg Watson, senior vice president, McDonald's U.S. Menu Innovation, in the company's statement. "We have always been committed to serving delicious, high quality beverages at a value and we're happy to provide consumers another great way to enjoy McDonald's McCafé coffees."
It's a smart move as McDonald's aims to further reposition itself as more of a competitor to café chains like Starbucks or Dunkin Donuts rather than burger joints like Burger King or its most aggressive current competitor Taco Bell. If McDonald's really wants consumers to think of McDonald's when they think of coffee, they need to meet their competition at all of their levels – and brands like Starbucks and Dunkin Donuts are able to command strong revenue and consumer loyalty through their grocery-targeted retail products.
By launching K-cups, ground coffee, and whole beans in a variety of flavors from Premium Roast to French Vanilla, McDonald's will be well equipped to compete. By teaming up with a powerhouse like Kraft at its side, the brand is especially confident that it will be able to deliver consumer satisfaction and cultivate strong sales.
"In a competitive category that is growing rapidly and changing every day, this new partnership with McDonald's represents a whole new era in the world of at-home premium coffee," said Nina Barton, vice president of Coffee for Kraft Foods. "This partnership will allow us to leverage each company's best-in-class capabilities, putting us in a prime position to drive further category growth and deliver one of America's largest, fastest-growing coffee brands to coffee lovers nationwide. By tapping into the loyal McCafé fan base already built by McDonald's and leveraging our deep coffee category expertise here at Kraft, we have the ability to reach a larger audience than ever before, really giving this brand room to thrive."
Read the press release here: http://news.mcdonalds.com/US/releases/McDonald%E2%80%99s-USA-and-Kraft-Foods-Group,-Inc-Bring-Mc