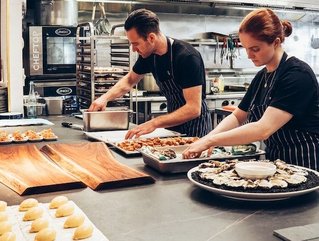 In-house food production.
From innovative tech-driven solutions to eco-friendly practices, there's an exciting range of new trends that are shaping the restaurant industry in 2023.
Dining out is more than just satiating our hunger; it's an experience. And in 2023, it's clear to see that the dining experience is heading towards a new direction. From innovative tech-driven solutions to eco-friendly practices, there's an exciting range of new trends that are shaping the restaurant industry in the coming years. In this post, we'll be exploring the top 10 restaurant trends that are expected to take over this year.

1. Plant-based options: It's no secret that the demand for plant-based options has been on the rise, and it's expected to only grow stronger in the coming year. Restaurants are already offering vegan and vegetarian dishes, but we can expect to see even more innovative and tasty plant-based options that cater to a wider range of dietary requirements.
2. Smart tech solutions: From smart tables that allow you to order food, pay your bill and even control the music through your phone to AI-powered chatbots that answer your questions and make recommendations - the use of smart tech solutions is becoming increasingly popular in the restaurant industry.
3. Eco-friendly practices: Environmental consciousness is a trend that has been gaining momentum for some time now, and it's expected to be one of the most significant drivers of change in the restaurant industry. Restaurants can expect to see a shift towards biodegradable packaging, locally sourced produce, and composting programmes.
4. Focus on health and wellness: With increasing awareness of health and wellness, restaurants are shifting their focus towards creating healthy, nutrient-rich meals that cater to a range of dietary requirements. We can expect to see more plant-based options, low-carb, and gluten-free dishes on the menus of our favourite restaurants.
5. More immersive dining experiences: People go out to dine not only for food but also for the unique and immersive experiences they offer. Restaurants that embrace technology, sound design, and lighting to create unique and engaging dining experiences are expected to be at the forefront of the new dining trend in 2023.
6. Community-focused spaces: Restaurants are no longer just about the food; they are becoming a community hub. In 2023, we can expect to see more restaurants offering spaces for events, workshops, and community meetings, as they strive to become more than just a place to eat.
7. Fusion cuisine: Combining the best elements of different cuisines, fusion cuisine has always been popular, but it's expected to become a more significant trend in 2023. Innovatively merging different culinary styles and cultures, fusion cuisine will offer a unique dining experience to customers.
8. Hyper-local cuisine: Hyperlocal cuisine focuses on creating dishes inspired by a particular region, city, or town. Ingredients sourced from a specific area, highlighted on menus, and celebrated by chefs. This trend will continue to grow in 2023, as people increasingly seek out unique and authentic dining experiences.
9. Artisanal drinks: Craft beers, natural wines, and organic cocktails made with locally sourced ingredients are quickly becoming more accessible and popular. Along with the rise of artisanal food options, we can expect to see a surge in artisanal drinks options in 2023.
10. In-house food production: In-house food production is a trend that is quickly gaining traction, restaurants are becoming more self-sufficient with growing their produce or operating on-site butcheries to ensure control over food supplies. This trend is expected to grow in 2023 as customers become more conscious of their food sources.

The restaurant industry is evolving, and the future looks exciting. From plant-based options, eco-friendly practices to smart tech solutions, the dining experience is indeed heading towards a revolutionary direction. The top 10 restaurant trends discussed in this post represent some of the most significant changes expected to take place in the industry come 2023. As the world continues to shift towards a healthier living and a more sustainable way of life, the restaurant industry is no exception. So get ready for an immersive, healthy, and eco-friendly dining experience this year!