Behind the Holiday Season Scenes at Knotts Berry Farm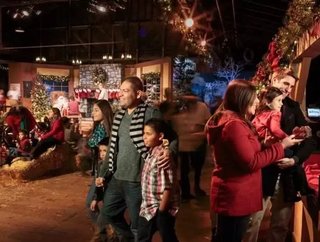 People like to complain that Southern California has no discernible seasons. But at Knotts Berry Farm, on the first day of its Knotts holiday season, si...
People like to complain that Southern California has no discernible seasons. But at Knott's Berry Farm, on the first day of its Knott's holiday season, signs of change are all around from the lighting of the Christmas tree to snow flurries every hour in the evenings in Ghost Town—and especially on the menu from Calico Square to Santa's Cabin.
John Chiu is our tour guide, giving us a glimpse of what Knott's Merry Farm has to offer. As Director of Food and Beverage at one of the most popular theme parks in North America, Chiu has the inside track on new seasonal treats: after all, his day-to-day responsibilities have him covering roughly 160 acres of theme park land, checking up on all of the park's 40 restaurants and food stands to ensure that they're meeting "the four cornerstones of [Knott's parent company] Cedar Fair—safety, service, courtesy, and cleanliness—all held together by integrity."  
That inside track is vital. It's a big park, and there's a lot to see.  
A New Plan for a Winter Wonderland
Whether it's a chicken dinner or the Peanuts gang, everything at Knott's Berry Farm tends to be built around a focal point. According to Chiu, this year's main dining attraction for Knott's Merry Farm was created out of a need to find a good home for Santa. "Originally he was over at the barn—but we had this venue that we only use a few times throughout the season," he explains. "We thought it would be a great opportunity to give Santa a great big home, feature him on a pedestal on stage there, and then have booths set up all around to have the different offerings."
The result is Santa's Christmas Cabin—a cozy cottage filled with branded syrups and preserves, candied pecans and walnuts, ice cold milk and freshly baked cookies, pastries dreamed up by the Knott's culinary team, and s'mores on a stick, a handmade confection and a visual treat that involves dipping marshmallows into a cascading chocolate fountain. There are also plenty of adult treats including dessert ports, craft beer, and liqueur-enhanced coffee.
Building Partnerships
Strong partnerships are a critical part of any theme park, even theme parks like Knott's Berry Farm that strive to produce as much as possible in-house. At Knott's, good partner relationships are what allow the park to serve products like Starbucks coffee and craft beers like Chicago's Goose Island and local Fullerton-based Bootlegger's Brewery at Santa's Cabin.
"It's really fun being where we are in Buena Park, because [nearby] Anaheim has a ton of breweries, a lot of pale ales," says Chiu. "So what we do is work with a local beer distributor that gives us a variety of beers for the season. We're featuring two seasonal beers in here, but we'll change it up for the spring time and again for the summer, because we really want our season pass holders to get a different experience each time. They get different events with each season, and we want to make sure that they have a great food offering as well."
Handcrafted On Site
Still, Knott's Berry Farm has food in its veins and still aims to be as self sufficient as possible. As Chiu explains, the park is committed to quality food that's prepped and cooked in-house wherever possible, from soft serve ice cream with fresh boysenberry purée to 24-hour marinated flank steak and freshly baked jalapeno bread created for the steak sandwiches at Fireman's BBQ.
For a star example of this commitment, Chiu leads us to the park's Churro Factory in Calico Square where all of the park's churros are made fresh every day. "Those are all fresh made, they're not frozen ahead of time," he notes. "We take the corn flour ingredients, we take the water, mix it all together and crank it there by hand." For Knott's Merry Farm season, the special offer is a warm and sugary pumpkin spice crème-filled churro. In the summer and the spring, a new flavor will rise up to take its place.
Combining the classic churro treat with a trendy flavor like pumpkin spice is a strong example of the food and beverage team's goals at Knott's Berry Farm year round. "We love to see what was offered in the past—what are some of the favorites that guests will remember?" says Chiu. "Then we love to put a new spin on it and give our guests a chance to try one of the fun new trendy food things going on in the industry these days that will really enlighten their taste buds and give them a great food offering."
Sharing Best Practices
While Knott's Berry Farm was built and expanded by Walter and Cordelia Knott decades ago, on the site of their own berry farm, since 1997 the theme park is a part of Cedar Fair Entertainment Company which owns 17 locations in total across the United States and Canada. As part of a theme park family, one wonders how much autonomy a park like Knott's Berry Farm gets to experiment with its restaurants and menu.
"100 percent," says Chiu. "I hear things about competing theme parks where it's very corporate driven, but here Russ [Knibbs, Vice President of Food and Beverage] and I have actually implemented so many best practices that we've shared them with the other parks across the Cedar Fair family. They've done the same for us as well, so we do a lot of back and forth."
In addition to Knott's executive chef Bobby Obezo and his culinary team having free reign to create and test new products across the park's restaurants, part of that back and forth sharing of best practices has led to Knibbs and Chiu implementing some of their favorite traditions from Canada's Wonderland theme park where they got their start in the industry. One tradition currently in practice at Knott's: the Canadian Maple Lollipop, made from pure imported Canadian maple syrup boiled at high heat to a taffy-like consistency then cooled and molded into a lollipop shape on blocks of ice before guests' eyes.
"It's our second year doing it," says Chiu. "With the food we always love to make entertainment of it, and we wanted to incorporate something from Russ and my heritage, something that we see done up in Canada. We thought: how fun would it be to see something like this done in California where it's 70 to 90 degrees year round?"
Still Growing Year Round
It may be the season for holiday festivities, but the food and beverage program at Knott's Berry Farm is growing season after season. The park recently launched a new line of syrups and preserves under the Berry Market label, putting a fresh spin on the high quality, natural and homemade recipes that Cordelia Knott made famous. Elsewhere in the park, next to the Charles M. Schulz Theatre, a major new addition is the Gourmet Coffee Hut.
"Given zero capital we actually converted this into a coffee shop," says Chiu. "We partnered with Starbucks to offer the Proudly Brewed coffee, the espresso line of coffee, Frappuccino beverages, hot teas and shaken iced teas. If you look at the pastries in the display case, our culinary team designed those—they're all made fresh every day."
Of course, because it's Knott's Berry Farm, the fare also includes boysenberry lattes and boysenberry soft serve ice cream. But that's just the beginning, because the team is already making plans to push the potential of the coffee stand even further. "Once we get additional capital," says Chiu, "we're going to make this place a real powerhouse for coffee."
Growth and progress is a constant at this busy theme park—but at its core is a team still working hard to meet the expectations set by the park's original owners year after year, season after season. This season it's infusing sunny Orange County with a little holiday spirit, and all the excitement and flavors that come with it.