Which? finds huge differences in high-street coffee caffeine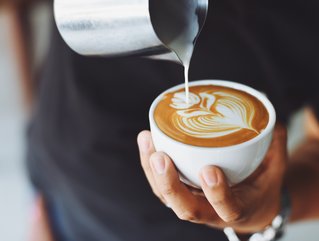 Which? looked at the caffeine content of espresso, cappuccino and filter coffee drinks from Caffè Nero, Costa, Greggs, Starbucks, Pret and Starbucks.
New research from Which? has found huge differences in the amount of caffeine in popular hot drinks at high-street coffee shops, with some containing up to six times the level found in rival offerings.
The consumer champion looked at the caffeine content of cappuccino, espresso and filter coffees at Caffè Nero, Costa, Greggs, Pret a Manger and Starbucks and found that people looking for their morning coffee hit could be consuming significantly more, or less, caffeine than they had bargained for.
Which? found that Costa offers the strongest medium cappuccino. Its cup contained a massive 325mg of caffeine, which is around the same amount as in four cups of tea and nearly five times as much as a Starbucks cappuccino, which contained the least at 66mg – less than the 75mg you would find in a single typical tea bag. By comparison, a 250ml can of Red Bull contains 80mg.
The second and third-highest cappuccino caffeine levels, Greggs and Pret a Manger, were significantly below Costa at 197mg and 180mg respectively.
Which?'s research found that a single espresso from Pret a Manger contains 180mg of caffeine, six times as much as one from Starbucks which had a meagre 33mg by comparison.
Pret a Manger's filter coffee also contained the most caffeine at 271mg, two-and-a-half times as much as the Starbucks version, which contained 102mg. Greggs was a close second to Pret for its caffeine levels, containing 225mg in a cup of filter coffee.
Caffè Nero had the second lowest levels of caffeine after Starbucks in both the cappuccino, (110-115mg) and espresso (45mg) categories.
The company said consumers worried about their caffeine intake might want to consider how much is in their drinks when buying coffee. If they would like a bigger caffeine boost for their buck, it could be worth opting for one of the drinks with higher amounts. However, people who are sensitive to caffeine or need to avoid it for health reasons, such as being pregnant, should avoid the stronger coffees.
It added, another way to limit the amount of caffeine in a drink is to request fewer shots in the drink when ordering. A large cappuccino from Costa contains four shots of espresso, while a small flat white contains three shots and most coffees in the chains Which? looked at have at least two shots of espresso. Caffeine intake can quickly add up for those who drink multiple cups a day – especially if you are unwittingly buying drinks at the stronger end of the spectrum.
Shefalee Loth, Which? Nutritionist, said: "Many of us rely on coffee to get us through the dark winter mornings, but our research shows you may be consuming significantly more, or less, caffeine than you bargained for.
"Our analysis has shown that there are big variations in caffeine content between drinks from different high-street coffee shops. Most of the time this shouldn't be an issue but if you drink a lot of coffee or need to limit your caffeine intake you might want to consider what you're ordering and where from."