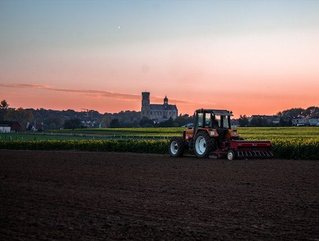 Farming
The World Economic Forum says the war in Ukraine has led to shortages of essential crop fertilizers.
The war in Ukraine is having a major impact on the global supply of agricultural fertilizers, potentially undermining food security around the world, according to the World Economic Forum.
Russia, together with Belarus, is one of the world's largest sources of mineral fertilizers. After its invasion of Ukraine in February 2022, many nations, including the United States and the European Union (EU), imposed sanctions on the country.
Although there were specific exemptions in the sanctions regime to permit Russia and Belarus to continue to supply fertilizers, exports have fallen foul of other measures designed to isolate the region.
The World Economic Forum's 2023 Global Risks Report ranked a looming food supply crisis as one of the top four threats facing the world, predicting that "the lagged effect of a price spike in fertilizer" would hit food production across the world in 2023.
Allowing Russian fertilizer exports was part of a deal brokered by the United Nations to permit the resumption of grain exports from Ukraine. But Russia later said that its fertilizer was being prevented from reaching customers in the global south.
Fertilizer exports have been hampered by the exclusion of Russian banks from the global SWIFT payments system coupled with the reluctance of insurers to cover shipments in a war zone. At the same time, export routes across the EU have been closed, the World Economic Forum says.
Shortages have been compounded by export restrictions imposed by China, which accounts for 30% of global phosphate fertilizer supplies. As a consequence of measures to protect its domestic market, China's exports shrunk by 50% in 2022, the World Bank says.
At the same time, surging energy prices, also caused by the war, have led to a 70% drop in European fertilizer production, further limiting world supplies. The World Food Programme (WFP) says half the world's population relies on food grown with mineral fertilizers.
Race against time
And time is running out to avoid widespread hunger. "With planting seasons imminent in much of the world, it is critical that all farmers get the fertilizer they need quickly and at affordable prices," the WFP warned.
Fertilizer prices rose by 199% between May 2020 and the end of 2022, WFP figures show. While prices fell back in the first quarter of 2023, this was partly due to farmers in developing nations simply not buying any and relying on less effective alternatives like dung.
"Trade facilitation may be one way to boost flows of fertilizer out of Ukraine and Central Asia, with traditional routes blocked," said Sean Doherty, Head of International Trade and Investment at the World Economic Forum.
"Globally, export restrictions for food or fertilizer can be contagious – where possible, governments should refrain from these and maximise transparency on supply. Longer term, resilience can be increased by diversifying sourcing and strengthening social protection systems."
The WFP negotiated the release of 260,000 tonnes of Russian-made fertilizer that had been impounded in the Netherlands and chartered a ship to take it to Mozambique for onward shipment to Malawi.
Meanwhile, steps are being taken to ease the world's dependence on fertilizers from current sources. US President Joe Biden has announced a $500 million programme to increase domestic fertilizer production and the EU is being urged to take similar action.
Canada, already the world's leading supplier of potash fertilizer, announced a 20% boost to exports in November 2022 designed to help fill the gap left by blocked supplies from other nations.
"It's important this fertilizer crunch is solved," said Stefan Meyer, an economist with WFP's Economic and Market Analysis Unit. "We have to produce enough [food] on the available land – land is limited – and fertilizer is an important component of that."
"Many farmers are using less fertilizers, particularly in developing countries. Smallholder farmers have problems purchasing fertilizers, and that can mean lower production in current and upcoming seasons," he added.