PepsiCo unveils its most sustainable European factory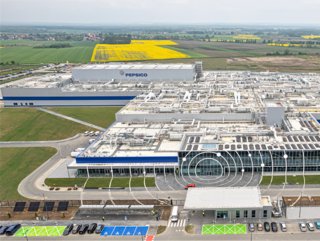 PepsiCo unveils its most sustainable European factory
Furthering its efforts towards a circular economy, multinational food & beverage company, PepsiCo, has unveiled its most sustainable factory in Europe
Built with sustainability at its core, PepsiCo's latest unveiling - a Polish plant near Środa Śląska - will be the multinational food and beverage company's most sustainable factory in Europe.
With the industry increasingly recognising the circular economy as a framework to address global food system challenges, the plant will use new sustainability solutions such as rainwater collection for reuse and generating its own energy via rooftop solar panels.
The plant marks the company's fifth plant in the country, costing USD$321mn, and is expected to be climate neutral by 2035.
Producing products for the domestic market, the new plant will be exporting to more than 20 countries including Germany, Czech Republic, Slovakia, and Hungary.
The future is circularity
Being the company's greenest in Europe, the new plant will showcase how circular economy principles can be used throughout the entire lifecycle of a snack.
Key features of the new plant:
Low utility consumption
Generation of its own energy via solar panels
Recovery of heat process water and rainwater for use in building utilities
Leftover peelings will be used to help power the plant using anaerobic digestor technology, then converted into low-carbon fertiliser for farmers
Electrification of steam generation
An electric fleet of company cars with dedicated charging stations
PepsiCo also has plans to introduce an onsite solar farm in the future.
"Poland is a strategic market with a significant development potential, where we have been investing for over 30 years. The opening of this new, environmentally sustainable snack facility is a major milestone for PepsiCo in Europe. We would like to thank our associates and our partners for helping us reimagine the future of food and bringing this facility to life," said Silviu Popovici, CEO, PepsiCo Europe.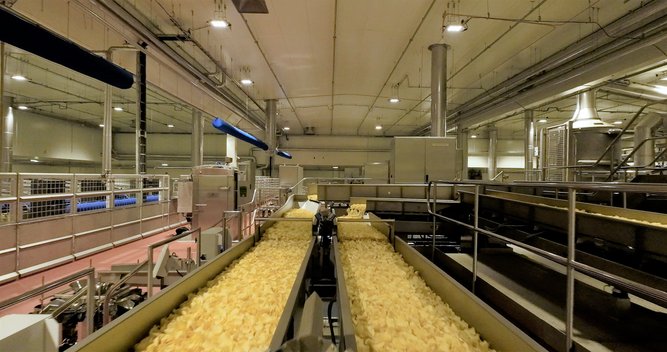 PepsiCo sustainable factory in Poland, production line.
Poland: A key market for growth
For more than 30 years, PepsiCo has had a significant presence in Poland. Today the company contributes to 32,000 jobs across the value chain. This new plant will create 450 jobs to boost the economy in Poland.
In addition, PepsiCo has been working with local communities since it began operating in Poland, with the company sourcing crops inder the global PepsiCo Sustainable Farming Programme. Each year, PepsiCo sources more than 200,000 tonnes of sustainably grown potatoes in Poland which is expected to grow by 60,000 tonnes per year by 2025.
"There couldn't be a better example of our shared success in economic growth than PepsiCo Poland! The iconic American brand first arrived in Poland in 1991, when it opened its first factory near Warsaw. All these years later PepsiCo is continuing to invest in Poland and its people by expanding its footprint in a substantial way. This new manufacturing plant is PepsiCo's fifth and largest investment in Poland so far," said Mark F. Brzezinski, US Ambassador to Poland.