King's College London: health impact of ultra-processed food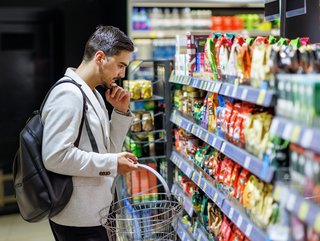 There is evidence to suggest that these foods are more harmful for people than previously thought.
Academics from King's College London have highlighted the impact of ultra-processed food on health in BBC One's Panorama programme
Professor Tim Spector and Dr Sarah Berry from the Faculty of Life Sciences & Medicine at King's College London are raising awareness of how ultra-processed food can have a lasting impact on long-term health in a BBC One Panorama.
The UK is currently facing a sharp increase in those experiencing chronic illnesses, with an increase in those with diabetes and cancers. The Panorama programme suggests that there could be a link between this and the food that we eat, positing emerging scientific evidence that the chemicals in ultra-processed foods could be linked to cancer, diabetes and strokes.
Ultra-processed foods: a future "time bomb"?
Ultra-processed food includes: supermarket bread, crisps, flavoured yoghurts, cereals and fizzy drinks, as well as added ingredients that are not often present in home cooking such as preservatives, emulsifiers and artificial sweeteners.
The chemical additives and emulsifiers contained within these foods break down the structure of the food itself and prevent the texture or the food itself from separating.
Dozens of companies have been releasing research into processed foods and how they could lead to an increased risk in cancer, with emulsifiers in particular cited as causing a higher risk of cancers and cardiovascular diseases.
In January 2023, a very detailed study on ultra-processed food conducted by Imperial College's School of Public Health was published in The Lancet medical journal. It studied 200,000 adults in the UK and found that higher consumption of ultra-processed foods may be linked to an increased risk of developing cancer overall, and specifically ovarian and brain cancers.
Professor Tim Spector of King's College London said to Panorama that the ubiquity of ultra-processed foods in the UK diet is a "future time bomb."
"We already have the most obese children in Europe. That means more Type 2 diabetes, more cancer, more heart disease, more mental illness. This really is a future time bomb; it's a complete disaster and we're sleepwalking into it."
During the course of the programme, twin sisters Aimee and Nancy from the TwinsUK study demonstrate health impact as a result of diet. Aimee spent two weeks on an ultra-processed diet, alongside her sister eating the same amount of calories through consuming raw or low-processed foods.
After two weeks, Aimee gained a kilo of weight and her blood sugar levels and blood fat levels increased.
Studies suggest a higher risk of developing cancer later in life
There is some evidence to suggest that these foods are more harmful for people than previously thought, with the addition of emulsifiers and artificial sweeteners like aspartame, for example. These ingredients lead foods to be marketed as low calorie, but as yet the long-term effects on health is unclear. Evidence suggests that these types of food lead to higher risks of diseases like cancer.
In recent years, plenty of major companies have been trying to move away from using as many artificial sweeteners, with PepsiCo in particular announcing in 2020 that it would no longer be made with the artificial sweetener aspartame.
Dr Sarah Berry stated in the Panorama mini-documentary: "There's a term we use called the 'health halo,' where you have packaging that says 'high in fibre', 'low in sugar', 'low in salt', 'plant based'. All of these magic words which make people think: 'wow these are really healthy.' If [any ingredient] ever says 'low', 'reduced' or 'no', I'd always be a bit suspicious because how else have they made these foods taste great?"
There are also arguments to suggest that the impact of processed food is already being felt by younger people. The Guardian recently reported that nearly a third of baby and toddler foods sold in the UK are ultra-processed, risking children's long-term health and development, according to research conducted by First Steps Nutrition Trust.
This Panorama programme is ultimately a call for authorities to greater protect public health. Should there be greater levels of regulations or research into the food that people are putting into their bodies?