JDE Peet's new sustainable paper beverage packaging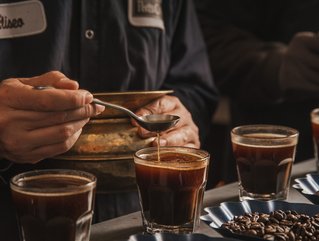 The packaging launch supports JDE Peet's efforts to use 100% reusable, recyclable or compostable packaging by 2030. Credit | JDE Peet's
Tea and coffee giants JDE Peet's have announced a new sustainable paper packaging for its soluble coffee, reducing carbon footprint and promoting reuse
JDE Peet's is an American-Dutch coffee and tea company with a portfolio of over 50 brands including L'OR, Peet's, Jacobs, Senseo, Tassimo, Douwe Egberts, Old Town, Super, Pickwick and Moccona.
In 2022, JDE Peet's generated total sales of US$9.2bn, employed a global workforce of more than 20,000 employees and served approximately 4,200 cups of coffee or tea per second.
The company, which can be dated back to 1753, believes in discipline, simplicity, solidarity, entrepreneurship and accountability, and between its brands can offer a cup of tea or coffee to everyone, no matter who they are, where they are, or what their preferences,
Pioneers: Sustainable packaging launch
JDE Peet's have launched a first-of-its-kind packaging for its soluble coffee ranges as part of its net zero sustainability initiatives.
The paper packaging is recyclable and encourages consumers to reuse glass and plastic jars already in circulation.
"This is an important step in driving the sustainability agenda of our company and yet another sign of our leadership in innovation. We know that reducing packaging and promoting recyclability and reusability are increasing consumer needs," says Fabien Simon, CEO of JDE Peet's.
"By providing more sustainable solutions within soluble coffee, one of the world's most beloved and consumed beverages, we can maximise our positive contribution in decarbonising our own portfolios and the coffee market as a whole."
Sustainability at the heart of coffee production
The packaging launch supports JDE Peet's efforts to use 100% reusable, recyclable or compostable packaging by 2030 — 78% of its packaging is currently.
The company's ESG initiatives operate throughout the brands, from sustainable sourcing, to burning waste coffee at factories to save landfill.
The Common Grounds programme champions an inclusive and regenerative ecosystem comprised of three pillars:
Responsible Sourcing — championing regenerative agriculture to enhance livelihoods and positively impact our planet. JDE Peet's achieved its goal of 100% responsibly sourced palm oil by 2025 three years early.
Minimising Footprint — striving towards a planet-positive supply chain through innovation and collaboration on sustainable solutions. JDE Peet's has achieved zero waste-to-landfill at 22 of its 43 manufacturing facilities, and is aiming for all 43 by 2025.
Connecting People — engaging colleagues and communities to support wellbeing and promote equal opportunity. JDE Peet's have 40% women in leadership positions, a target it had set for 2025.
"Having set carbon reduction targets with the science based targets initiative, we prioritise energy efficiency projects," says Dyfrig Davies, Engineering Manager at the JDE Coffee Manufacturing Factory in Banbury, UK.
"We've committed to these targets and now we have to deliver them. we're taking action for humanity — and doing right by the planet is the right thing to do for our business as well."