INDUSTRY MILESTONE: Cultivated meat is approved by USDA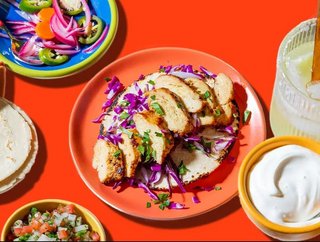 UPSIDE Foods and GOOD Meat awarded grants of inspection by USDA
GOOD Meat and UPSIDE Foods have been granted approval by the United States Department of Agriculture (USDA) to sell cultivated meat products in the US
Cultivated meat - or cultured meat - is a genuine meat product (including seafood and organ meats) that is produced by those cultivating animal cells directly.
Made of the same cell types that can be arranged in the same or similar structure as animal tissues, this production method replicates the sensory and nutritional profiles of conventional meat but eliminates the need to raise and farm animals for food.
When did cultivated meat first appear in the industry?
Back in 2013 th first cultivated meat burger was unveiled by Mark Post live on television. Two years later the world's first cultivated meat company - UPSIDE Foods - was founded by Uma Valeti (CEO), Nicholas Genovese (CSO), and William Clem.
Today the industry has more than 150 companies operating in six continents and is backed by US$2.6bn in investments. Each company is committed to a simple mission - to produce cultivated meat products and technology solutions for the value chain.
How is cultivated meat made and what are the benefits?
The manufacturing process for cultivated meat begins by acquiring and banking stem cells from animals. Cells are then grown in bioreactors at high densities and volumes, fed an oxygen-rich cell culture medium, and supplemented with growth factors and other proteins.
The process is expected to take between two and eight weeks depending on the kind of meat that is being cultivated, this concept is also being pursued for milk and other animal products.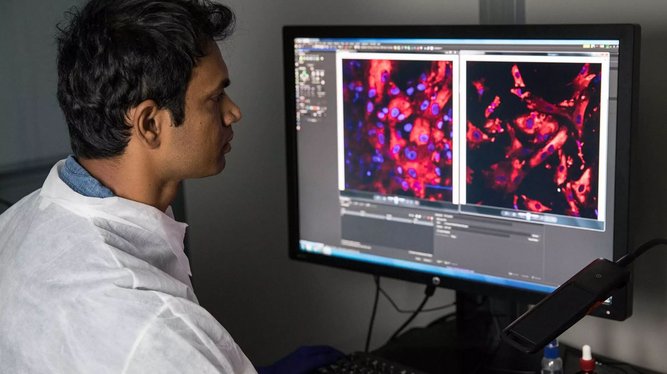 GOOD Meats cultivated meat process
Reported benefits of cultivated meat include:
More efficient production process
Significantly few resources used
Reduced agriculture-related pollution and eutrophication
Reduced greenhouse gas (GHG) emissions by 92% - if produced using renewable energy
Reduced land use by 90%
Production is expected to occur entirely without antibiotics resulting in fewer incidences of foodborne illnesses and antibiotic resistance
Mitigate agriculture-related deforestation, biodiversity loss, zoonotic disease outbreaks, and industrialized animal slaughter
USDA approval: Landmark moment for the cultivated meat industry
Announced by both UPSIDE Foods and GOOD Meat the United States Department of Agriculture (USDA) has awarded grants of inspection allowing both companies to sell their cultivated chicken products in the US - a landmark moment in the industry's history.
Following this approval both companies have begun commercial production and the process of scaling their operations to meet the growing demands for meat - in 2022, Americans alone consumed around 75 billion pounds of red meat and poultry.
"We know the road ahead is long, but each step we take brings us that much closer to our goal of building a more humane, sustainable, and resilient food system. We like to imagine that chickens across America are celebrating — and we're celebrating right along with them," commented UPSIDE Foods.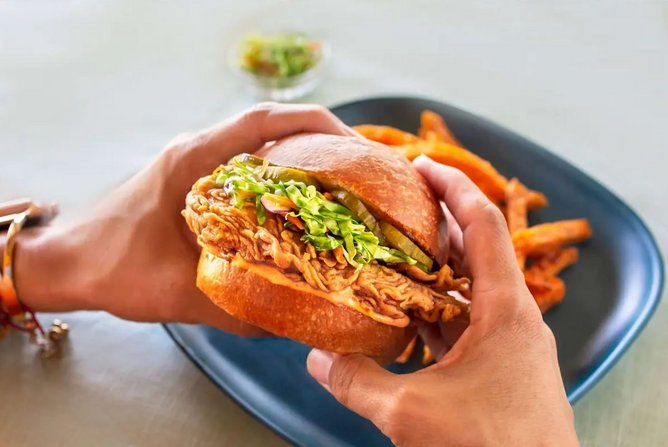 UPSIDE Foods chicken burger
Both UPSIDE Foods and GOOD Meat have announced plans to make their products available in US restaurants including Bar Crenn and José Andrés Group respectively.
"This announcement that we're now able to produce and sell cultivated meat in the United States is a major moment for our company, the industry and the food system. We have been the only company selling cultivated meat anywhere in the world since we launched in Singapore in 2020, and now it's approved to sell to consumers in the world's largest economy. We appreciate the rigor and thoughtfulness that both the FDA and USDA have applied during this historic two-agency regulatory process," said Josh Tetrick, co-founder and CEO of GOOD Meat and Eat Just.