Cultivated meat company Good Meat achieves US FDA clearance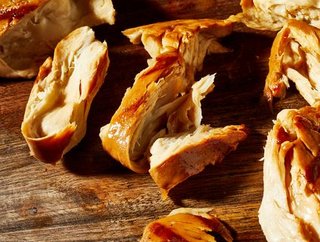 Cultivated chicken
FDA clearance means Good Meat, the first-to-market cultivated meat company's first poultry product, cultivated chicken, is safe to eat.
GOOD Meat, the cultivated meat division of food technology company Eat Just has announced that it has received a "no questions" letter from the U.S. Food and Drug Administration as part of one of the agency's first pre-market consultations for a new kind of meat, poultry and seafood made from cells instead of raised and slaughtered animals. The letter means that following a careful and rigorous evaluation, the FDA has accepted the company's conclusion that its first poultry product, cultivated chicken, is safe to eat.
This clears a crucial step in bringing GOOD Meat to restaurants and retail in the US more than two years after its historic approval and launch in Singapore. The company is now working with the U.S. Department of Agriculture on necessary approvals before world-renowned chef and humanitarian José Andrés becomes the first in the country to offer GOOD Meat's chicken to customers at a restaurant in Washington, D.C. Andrés is chef/owner of José Andrés Group, which operates more than 30 restaurants across the country.
"Since Singapore approved GOOD Meat for sale, we knew this moment was next. I am so proud to bring this new way of making meat to my country and to do it with a hero of mine, Chef José Andrés," said Josh Tetrick, co-founder and CEO of GOOD Meat and Eat Just.
"The future of our planet depends on how we feed ourselves…and we have a responsibility to look beyond the horizon for smarter, sustainable ways to eat. GOOD Meat is doing just that, pushing the boundary on innovative new solutions, and I'm excited for everyone to taste the result," said Andrés, a New York Times bestselling author, educator, television personality, and founder of World Central Kitchen, a nonprofit that uses the power of food to nourish communities and strengthen economies during times of crises. Andrés joined GOOD Meat's Board of Directors in 2021 and has been a vocal proponent of leveraging innovation to build a better food system for people and the planet.
The United States joins Singapore as a global leader in creating a regulatory pathway to market for real, safe, high-quality meat produced directly from animal cells. It's a pioneering process that, in partnership with the broader agricultural community, can help meet the growing global demand for safe, sustainable protein. Some analysts predict cultivated meat could become a $25 billion global industry by 2030.
Consistent, Scalable, Non-GMO & Antibiotic Free Process
Over the course of many months, GOOD Meat's development, manufacturing, and regulatory teams prepared extensive documentation for the FDA detailing the safety and production process for its cultivated chicken. The company provided details on the identity, purity and stability of chicken cells used as well as a thorough description of its consistent, robust, and scalable process, which does not require antibiotics at any stage. The submission included an in-depth safety review of the media used to grow its non-genetically modified cells.
Safety and quality validations submitted by GOOD Meat demonstrated that harvested cultivated chicken met poultry microbiological and purity standards, with microbiological levels significantly cleaner than conventional chicken. The analysis also demonstrated that GOOD Meat's cultivated chicken contains high protein content, a well-balanced amino acid profile and is a rich source of minerals.
Improving Through Chef & Customer Feedback
GOOD Meat won several regulatory approvals for its chicken in Singapore in 2020, 2021, and 2023, and it remains the only cultivated meat producer in the world with the ability to sell to consumers. Since its launch, the company's chicken has been featured on menus at fine dining establishments, popular hawker stalls, via the foodpanda delivery platform, and most recently by reservation at Huber's Butchery, one of Singapore's premier producers and suppliers of high-quality meats.
Thousands of dishes, ranging from crispy strips and curries to skewers and salads, have been sold in Singapore and have received universally high marks from diners. As the only company in the world with in-market consumer acceptance and safety data, GOOD Meat has been uniquely positioned to iterate on its chicken, improving the cooking experience for chefs and the sensorial experience for consumers.
According to consumer research conducted by a leading global management consulting firm on behalf of GOOD Meat, 70% of Singaporeans who tried GOOD Meat's cultivated chicken said it tasted as good or better than conventional chicken. Nearly 90% of those diners said they would substitute conventional chicken with cultivated chicken. Approximately 90% of restaurant operators said they would be open to selling cultivated meat, and most said they could envision cultivated meat replacing conventional meat on menus within a decade.